"Picatta-style means pan-seared meat is finished with a sauce of white wine, lemon, butter, and capers. It's one of my favorite ways to cook any fish or white meat. I love the interplay of rich butter, tangy lemon and the briny Mediterranean flavor of capers. For this dish, I added fresh sage and a touch of cream to bring a little feeling of autumn to the chicken dish, which I especially love to serve with pan-fried or roasted sweet potatoes. I always marinate chicken breast in buttermilk overnight to keep it juicy."
Serves: 6
Prep time: 8.5 hrs.
Bake time: 15-12 min.
Ingredients
6 small chicken breasts
2 cups buttermilk
Salt and pepper
4 tablespoons butter
2 tablespoons fresh sage leaves, chiffonade
1 lemon, zest and 1 teaspoon juice
1/2 cup white wine
1 cup cream
2 tablespoons capers
Directions
Place the chicken breasts in a sturdy zipper bag and pour over the buttermilk. Marinate overnight in the refrigerator.
When ready to cook, pat the chicken dry and season lightly with salt and pepper. Heat butter in a wide skillet and sear the chicken on both sides until brown, then lower the heat and cook gently until just done through. Set aside and keep warm.
To the remaining butter in the skillet, add the fresh sage leaves and lemon zest, and sizzle one minute, stirring. Add the lemon juice and wine and reduce to a syrup over high heat. Add the cream and capers and reduce slightly to make a clingy sauce. Taste and adjust seasoning with salt and pepper.
Pour the sauce over the chicken and serve.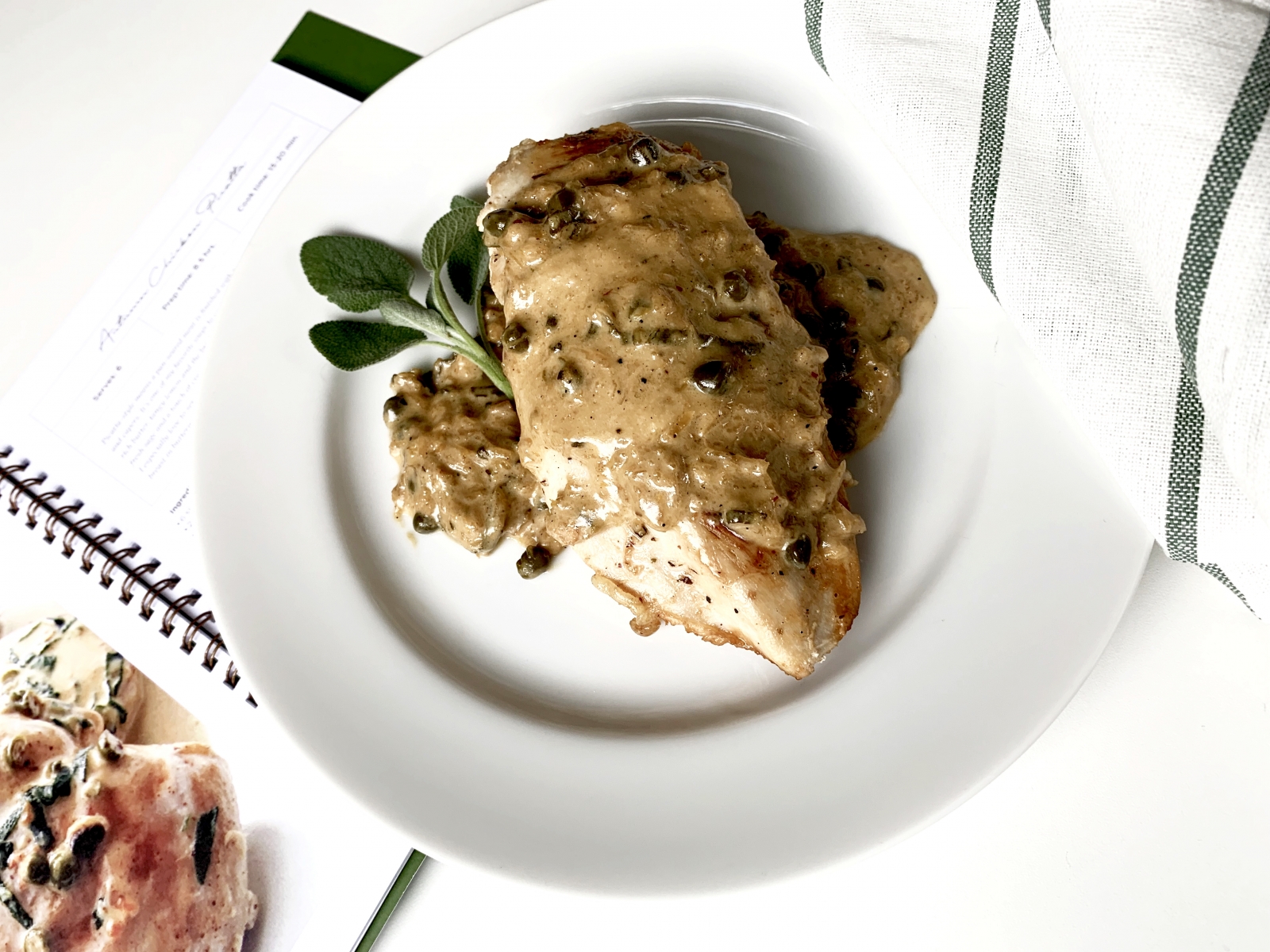 ---
Meet the Chef: Chef Aimee Blume grew up in Huntingburg, Indiana. She earned a degree in Fine Art at the University of Southern Indiana and worked as a field archaeologist before attending Western Culinary Institute in Portland, Oregon. She cooked at locations in the Pacific Northwest; Jackson Hole, Wyoming; Rome, Italy; and New Orleans, Louisiana, before coming back to the Evansville area.
Chef Blume's culinary passion is regional cuisine that has taken shape in a specific location over centuries. She loves American staples such as gumbo, fried chicken with milk gravy, and grilled salmon, but be prepared to see Thai chicken coconut soup, Arabian braised lamb shanks, and stuffed poblano chiles with fruit on her table as well.
Currently, in addition to serving as the corporate chef for OFS, she is a food and features correspondent for The Evansville Courier & Press and a culinary instructor. 
---
Cool Springs Cookbook is a gift to those who have spent time with us and have shared dinner at OFS, Cool Springs.  
We believe that very few things in the world today can create tighter, lasting bonds than the savory aromas and conversations that stir the senses over dinner. It's when we discover why we enjoy working together and why we call each other family.
Click the link below to download a printable recipe card.
Sign up to subscribe to our Imagine A Place magazine and receive more inspirational content delivered directly to your inbox each month.