"I love nutty flavors, so I always include nuts or toasted sesame oil in all my favorite salad recipes. This one has both, so I especially adore it. It came to be one day when the first head of cabbage in our garden was ready for picking in the spring. I thought about how to present it raw, right out of the ground, with other ingredients that would enhance its sweetness and crunch. This recipe was so well-received by guests and staff that it has become our unofficial house salad. I like to use Oscar Wilde aged Irish Cheddar, but any sharp cheddar, white or orange, would work fine. If you don't like raw onion in your salad, leave it out. If you don't like kale, a handful of arugula will add the same bright green color and fluffy textural contrast." ~ Chef Aimee
​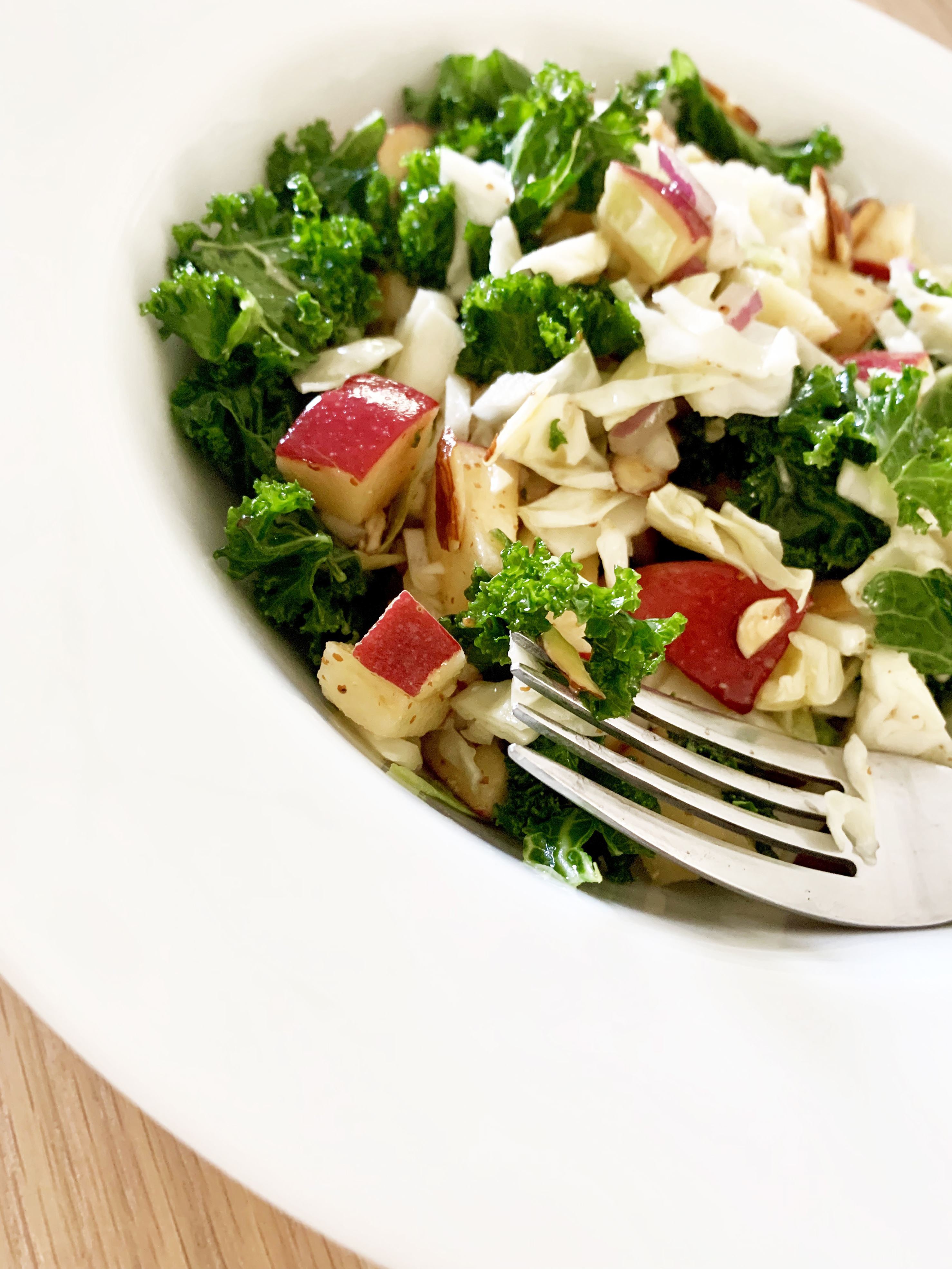 Serves: 4-6
Prep time: 15-20 min.
Ingredients
4 cups chopped green cabbage
1 cup baby curly kale leaves
2 Gala or Johnagold apples, unpeeled, chopped in large pieces
¼ cup red onion, chopped
½ cup blanched whole almonds, toasted, or Marcona almonds
½ cup aged white cheddar cheese, crumbled
Dressing:​​
2 tablespoons Bragg's apple cider vinegar
1 tablespoon Dijon mustard
2 tablespoons honey
1 teaspoon salt
¼ cup extra virgin olive oil
1 tablespoon toasted sesame oil
Directions
 Place salad ingredients not including dressing ingredients in a large bowl. 
 In a small bowl, mix the vinegar, mustard, honey, and salt. Gently stir in olive oil and sesame oil.   Toss with cabbage and apple mixture and serve immediately.
---
Meet the Chef: Chef Aimee Blume grew up in Huntingburg, Indiana. She earned a degree in Fine Art at the University of Southern Indiana and worked as a field archaeologist before attending Western Culinary Institute in Portland, Oregon. She cooked at locations in the Pacific Northwest; Jackson Hole, Wyoming; Rome, Italy; and New Orleans, Louisiana, before coming back to the Evansville area.
Chef Blume's culinary passion is regional cuisine that has taken shape in a specific location over centuries. She loves American staples such as gumbo, fried chicken with milk gravy, and grilled salmon, but be prepared to see Thai chicken coconut soup, Arabian braised lamb shanks, and stuffed poblano chiles with fruit on her table as well.
Currently, in addition to serving as the corporate chef for OFS, she is a food and features correspondent for The Evansville Courier & Press and a culinary instructor. 
---
Cool Springs Cookbook is a gift to those who have spent time with us and have shared dinner at OFS, Cool Springs.  
We believe that very few things in the world today can create tighter, lasting bonds than the savory aromas and conversations that stir the senses over dinner. It's when we discover why we enjoy working together and why we call each other family.
Click the link below to download a printable recipe card.
Sign up to subscribe to our Imagine A Place magazine and receive more inspirational content delivered directly to your inbox each month.